Single & Multiple Dental Implants At Implants Pro Center© San Francisco
Many people experience the loss of a tooth or multiple teeth due to trauma, decay, and periodontal disease. The placement of dental implants is often the most conservative and natural solution to these tooth loss problems. The surgery itself is usually very simple and painless, where pain medication is typically not needed on the following day after the surgery. In most cases, when the patient has enough bone, we place the temporary crown(s) on the same day of surgery to avoid any social embarrassment, allowing them to continue with their normal lifestyles until permanent crown restoration.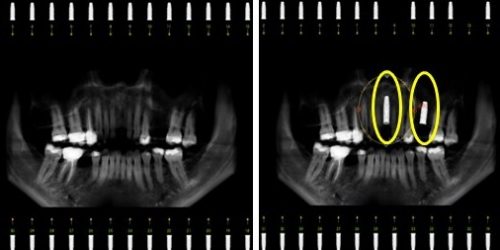 In addressing your dental needs, it is essential to choose a dental implant expert who has the proper skills and training, and enough experience to accurately assess your situation and custom design a personalized treatment plan applicable to you. Our team of specialists not only hold specialized degrees, but are also qualified and knowledgeable. At Implants Pro Center©, we use the best technology to provide qualitative and enduring results. Cone beam CT Scans are always recommended as a part of our approach to comprehensive treatment planning and proper assessment for an overall efficient and conservative strategy. Additionally, we utilize CAD/CAM technology to provide you with the most aesthetically pleasing restorative result.
Your oral health becomes our priority when you choose us for your treatment. At Implants Pro Center©, we take all primary dental and medical PPO insurances, along with Medicare, thereby decreasing your anxiety about the expense of dental implant treatment, restorations, or oral surgeries. We pride ourselves in our modern and effective techniques as well as thorough follow up after treatment.