Prettau® Zirconia at Implants Pro Center© San Francisco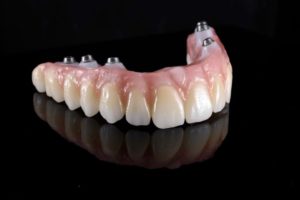 Best of all, your permanent replacement bridge can now be sculpted from a solid block of Prettau® Zirconia – a unique, high-quality material that is resistant to chipping and staining, unlike acrylic. 
Zirconia is resistant to chipping, cracking, and staining, unlike acrylic bridges with denture teeth, and provides a permanent solution. It doesn't attract plaque, so brushing is easy and it stays clean. It's non-porous, so it doesn't attract odors, and is exceptionally durable, so it fits comfortably and feels as natural as it looks. Your final Prettau® Zirconia bridge is tailored specifically to you using 3-D imaging and state-of-the-art robotic sculpting. It's then hand-finished and shaded for a natural look and polished for exceptional fit and feel.